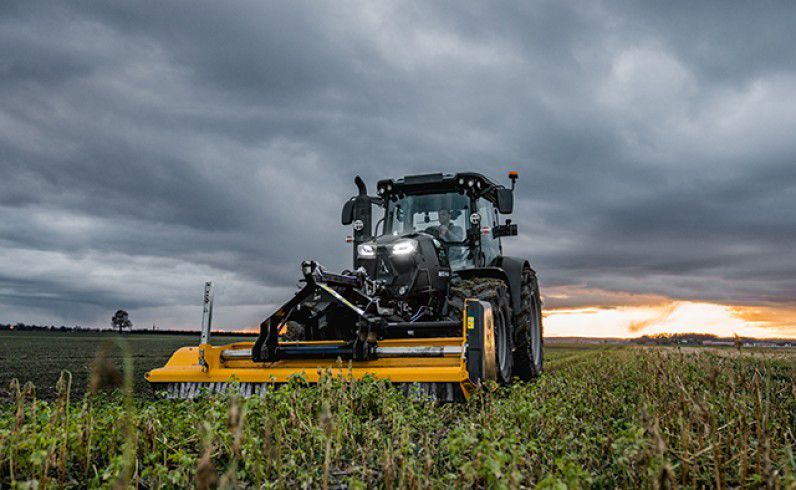 6C Series
AS VERSATILE AS A FARM CAN BE.
Power: 129-137 HP
Cylinders: 4
Weight: 5.000-5.500 kg
Wheelbase: 2.480-2.510 mm
Total configurability.
Offering endless scope for configuration, with 3 models, power outputs from 126 to 143 HP, a choice of 3 transmission types, potent hydraulic systems with load sensing pumps with capacities up to 120 l/min and a host of options, these tractors can be tailored to perfection for even the most specific need. All 6C Series models come with four cylinder Stage V engines, TopVision 4-pillar cabs and a choice of all-new SDF Smart Farming Solutions.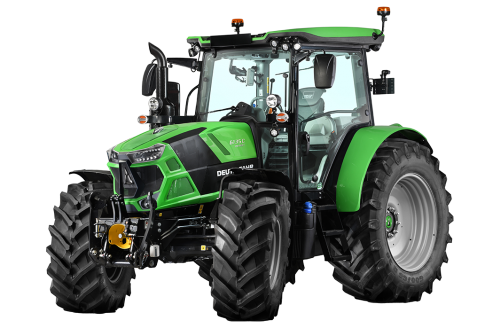 6C Series
Engine

Transmission

PTO

Hydraulic system

Brakes

Cab
Ultra-compact, ultra-efficient.
As well as outstanding levels of reliability and performance, the new Deutz TCD 3.6 / FARMotion 45 Stage V four cylinder engines also boasts extraordinarily low operating costs. These state of the art engines feature impressive torque over a very broad range of engine speeds ensuring rapid responsiveness to changes in load. Electronically controlled common rail fuel injection, the eVisco viscostatic fan, PowerCore air filters and highly efficient transmissions form an impressive package of high-tech solutions minimising both fuel and AdBlue consumption. Generously sized tanks (with a 160 litre fuel tank and 12 litre urea tank) ensure more than adequate range for every possible task. Offered with a choice of power outputs up to 120, 129 and 137 HP (for the 6115C, 6125C and 6135C models respectively), all engine variants also include a specific power boost map implemented automatically when the PTO is in use or at road speeds exceeding 15 km/h, which increases the maximum power of the respective model to 126, 136 and 143 HP.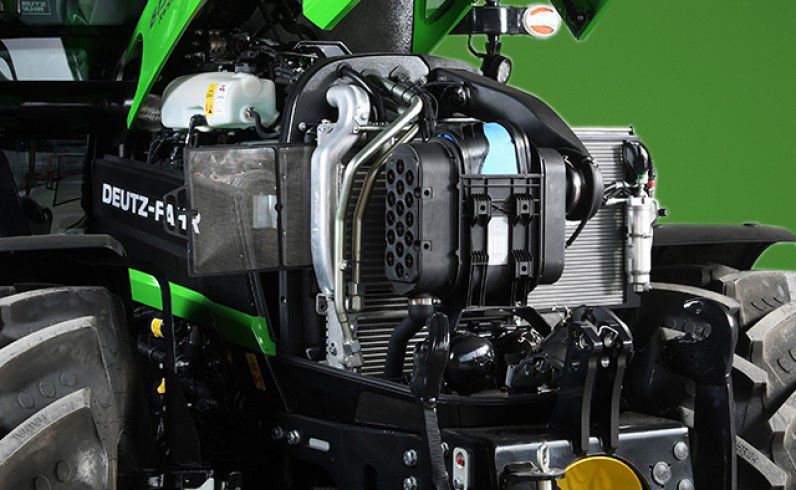 Class-beating efficiency, performance and configurability.
The new 6C Series is available with 3 different transmission types: an essential configuration, with mechanical main gearbox and 3-stage powershift, the innovative RVSHIFT full-powershift transmission, and the range-topping high-tech TTV continuously variable transmission. The 6C Series lets you choose the best suited transmission configuration for your specific needs. All transmission versions come with an electrohydraulic PowerShuttle. Direction inversion manoeuvres are executed with no interruption in torque delivery to the wheels, even under load, maximising safety especially when working on steep gradients. As well as all this, a choice of 5 user-selectable responsiveness settings and the Stop&Go and PowerZero functions make working with a front loader easier than ever. All models are capable of attaining their maximum road speed (40 Km/h for base transmission version or 50 Km/h for RVSHIFT and TTV versions) in part throttle conditions, maximising fuel efficiency and range.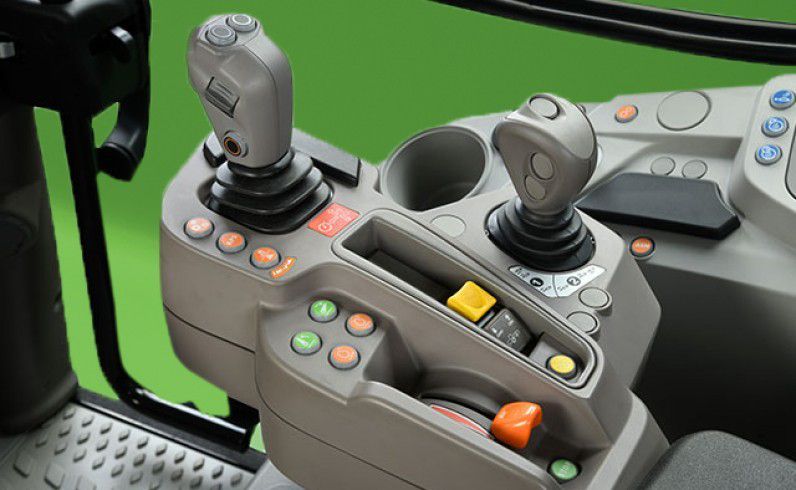 All the power you need.
The new 6C Series also offers extraordinary scope for configuration for working with PTO-powered implements. For unparalleled versatility and efficiency with every possible type of implement, the rear PTO features a progressively controlled electrohydraulic multiplate clutch with automatic implement measuring function. The interchangeable splined output stub shaft can be removed and replaced quickly and safely for working with different implements. On tractor versions with Powershift, the rear PTO comes as standard with 540 and 540 ECO speed modes, while 1000 and 1000 ECO modes are available as an option, to give a total of 4 selectable PTO speed modes. RVShift and TTV versions, on the other hand, feature 540, 540 ECO and 1000 speed modes. As options, all 6C Series models can be equipped with a transmission-synchronised groundspeed PTO (with independent output shaft) and a 1000 rpm front PTO, also with electrohydraulic multiplate wet clutch.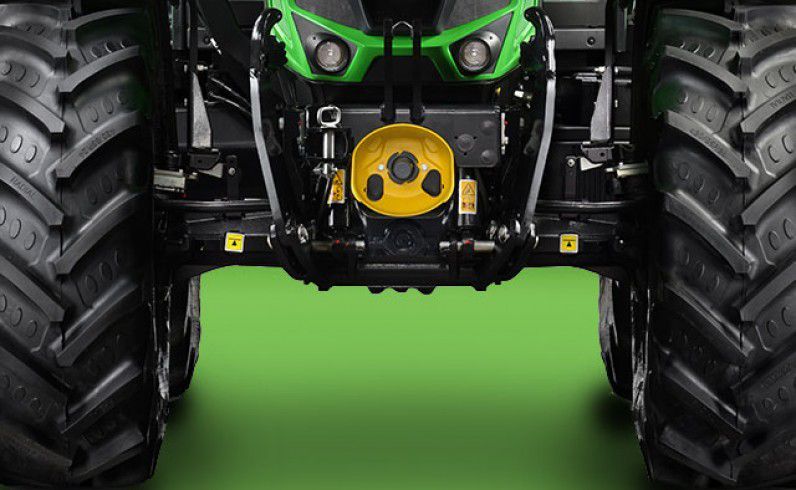 Modular hydraulics with all the configurability you'll ever need.
6C Series tractors are equipped with either a hydraulic circuit with 90 l/min gear pump or, as an alternative, a 120 l/min load sensing system with variable displacement pump.
The load sensing system delivers exactly the flow rate needed in response to the effective demand for oil, and features a combination of mechanically and electronically controlled distributors to ensure complete compatibility with any type of implement.
Both hydraulic system configurations are offered with at least 10 rear hydraulic couplers, Power Beyond couplers, a potent electronic rear lift with capacities up to 7000 kg and a 3000 kg front lift with an additional 2 front couplers. On all versions, a secondary pump with an output of approximately 40 l/min feeds oil exclusively to the ancillaries and steering system, ensuring seamless steering action even at idle speed and when the lifts and distributors are in use.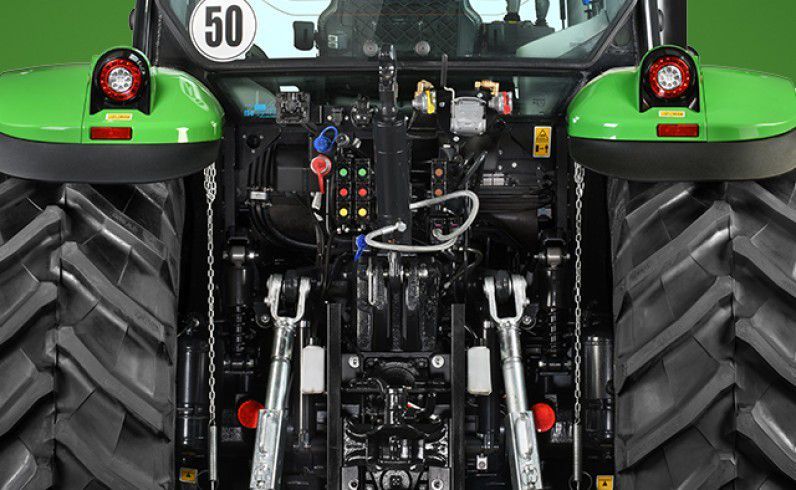 Uncompromised safety.
Designed and built entirely in-house, the front axle features electrohydraulically selected 4WD and a 100% lockable differential lock, which can also be engaged and disengaged automatically by the ASM function. For impeccable braking safety with a car-like brake pedal feel, these tractors are equipped with wet disc brakes on all 4 wheels operated by a Powerbrake booster. Boasting an impressive load capacity of 3000 kg and a maximum steering angle of 55°, the front axle is also available with dual hydraulic cylinders on all models in the family. RVShift and TTV models can also be equipped with the Hydraulic Parking Brake, a combined mechanical-hydraulic system which applies constant pressure to the rear disc brakes to hold the tractor in complete safety on any gradient. The new 6C Series is available with every type of trailer braking system currently in use, with a choice of hydraulic, pneumatic or combined systems making these machines even more versatile and offering the ideal solution even for heavy duty road transport usage.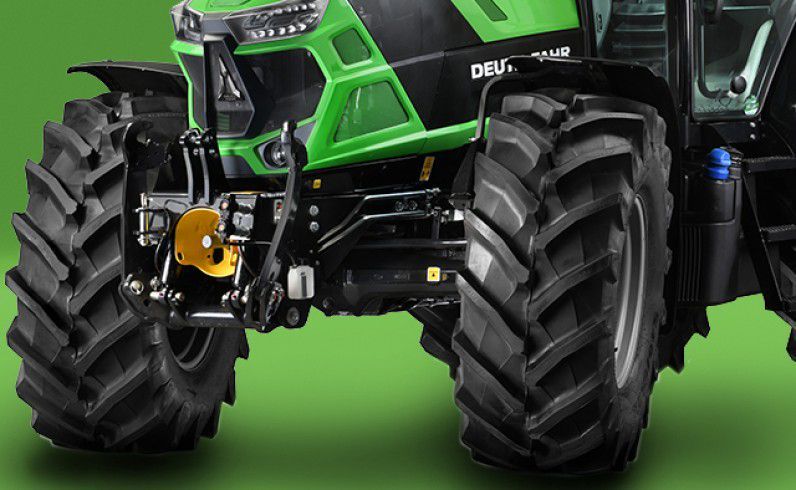 Unbeatable comfort and impeccable all-round visibility.
The new TopVision cabs offer outstanding levels of comfort. Innovative Hydro Silent-Block mounts reduce vibration by 40% compared with conventional components, while optional mechanical cab suspension is also available to take comfort even further. The 4-pillar structure and generous glazing ensure excellent outward visibility, while minimised noise levels, superior quality materials and the ergonomically superior layout of the cab make any job less tiring. Heated, electrically adjustable rear view mirrors and the heated rear screen ensure a clear view even in the coldest weather conditions.
RVShift and TTV versions are available with the InfoCenterPro, which puts the driver in complete control over all the functions of the tractor and adds programmable sequences of operations for routine actions. A huge choice of other options, such as a bracket for mounting a third party monitor or other devices, a passenger seat, an audio system with DAB+ radio, numerous electrical outlets (including 2 USB ports) and a 12V refrigerator let you configure every tiny detail of the cab to suit your specific needs.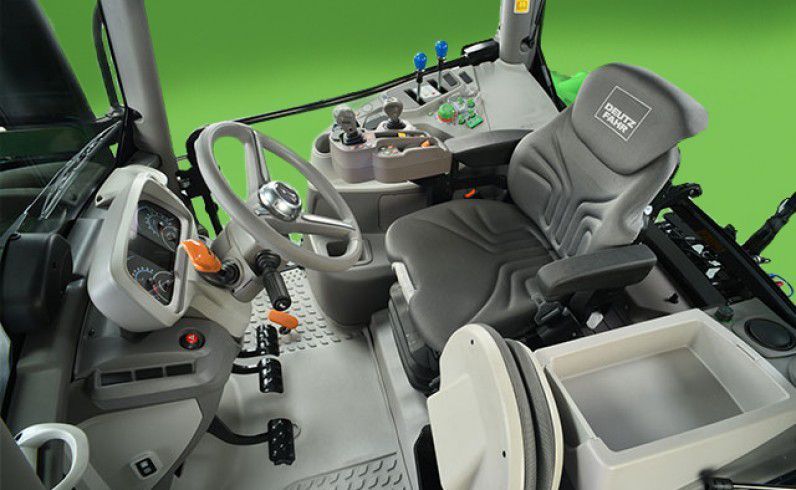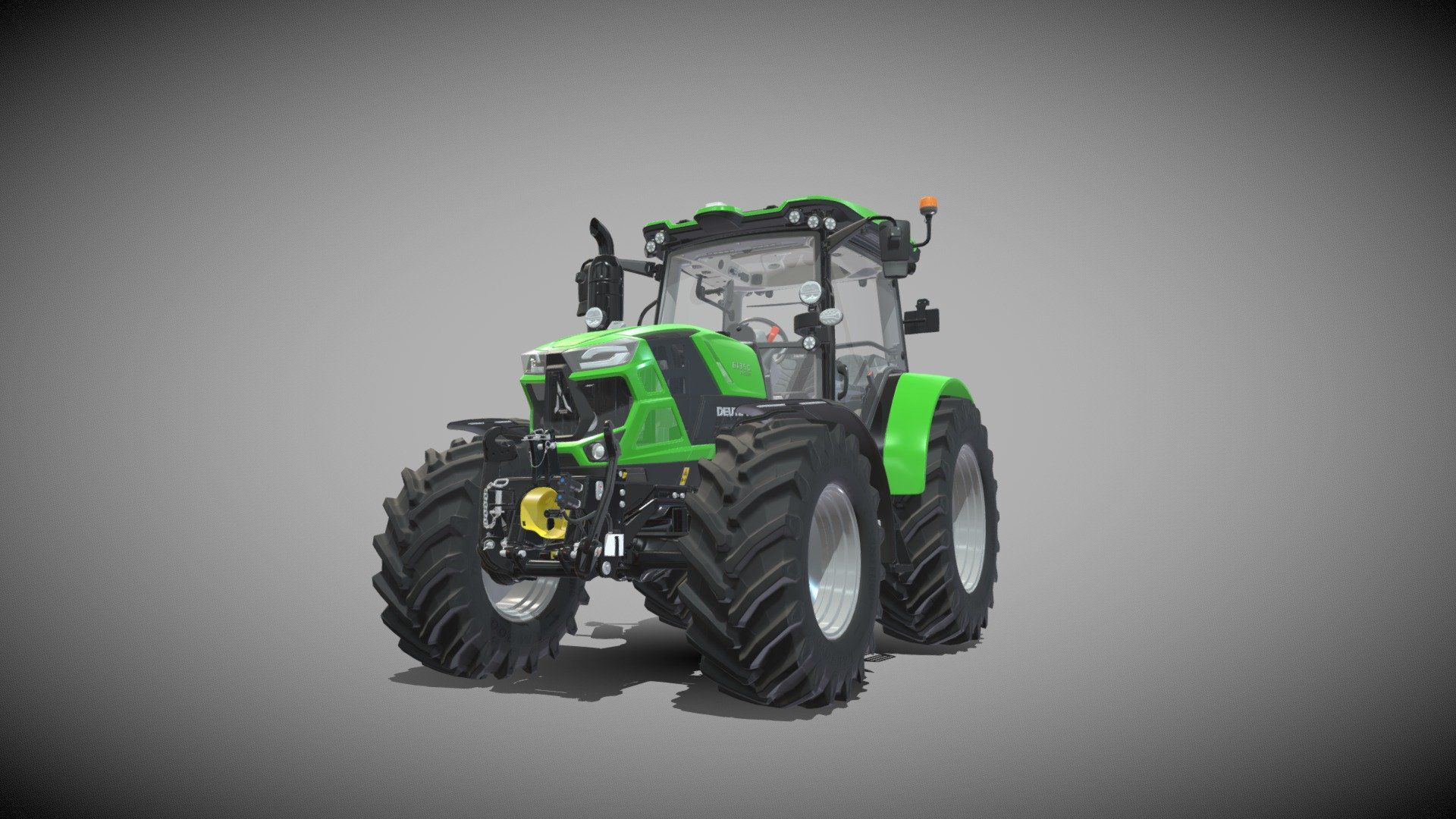 Color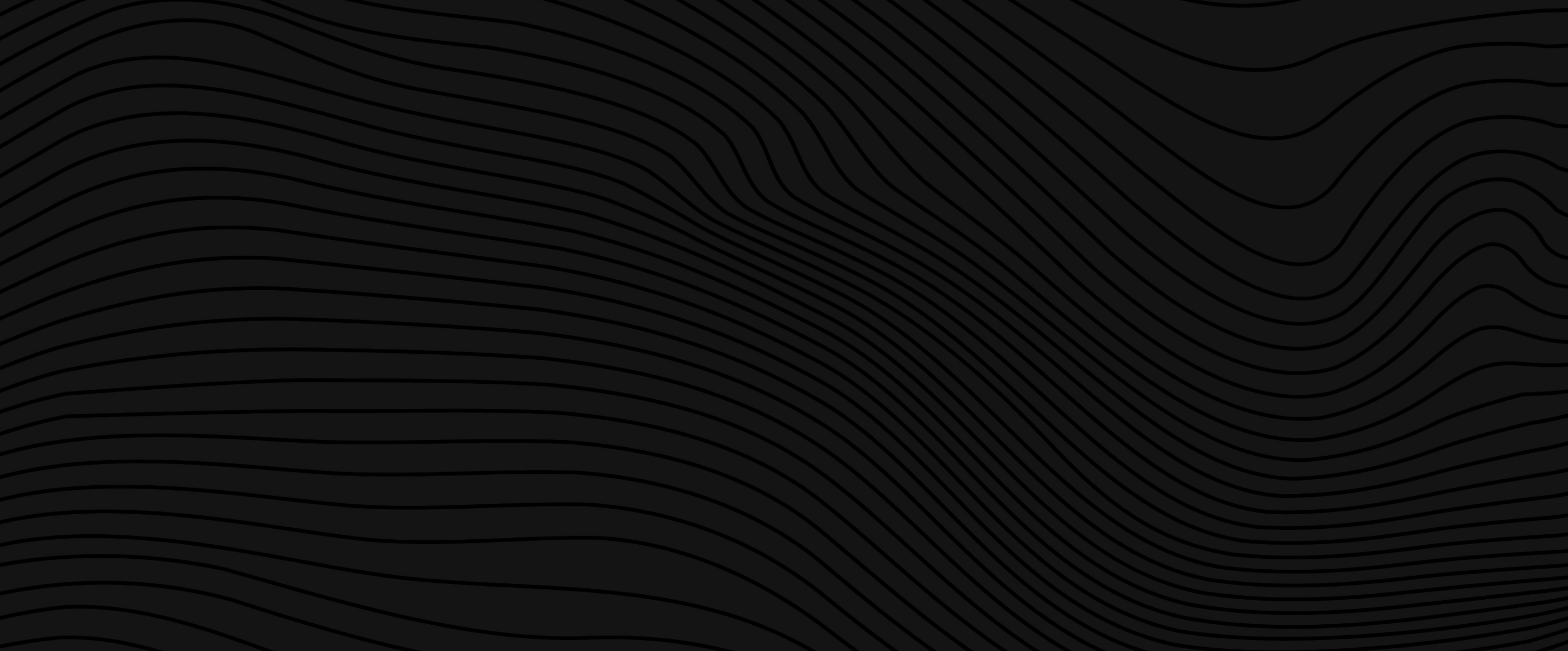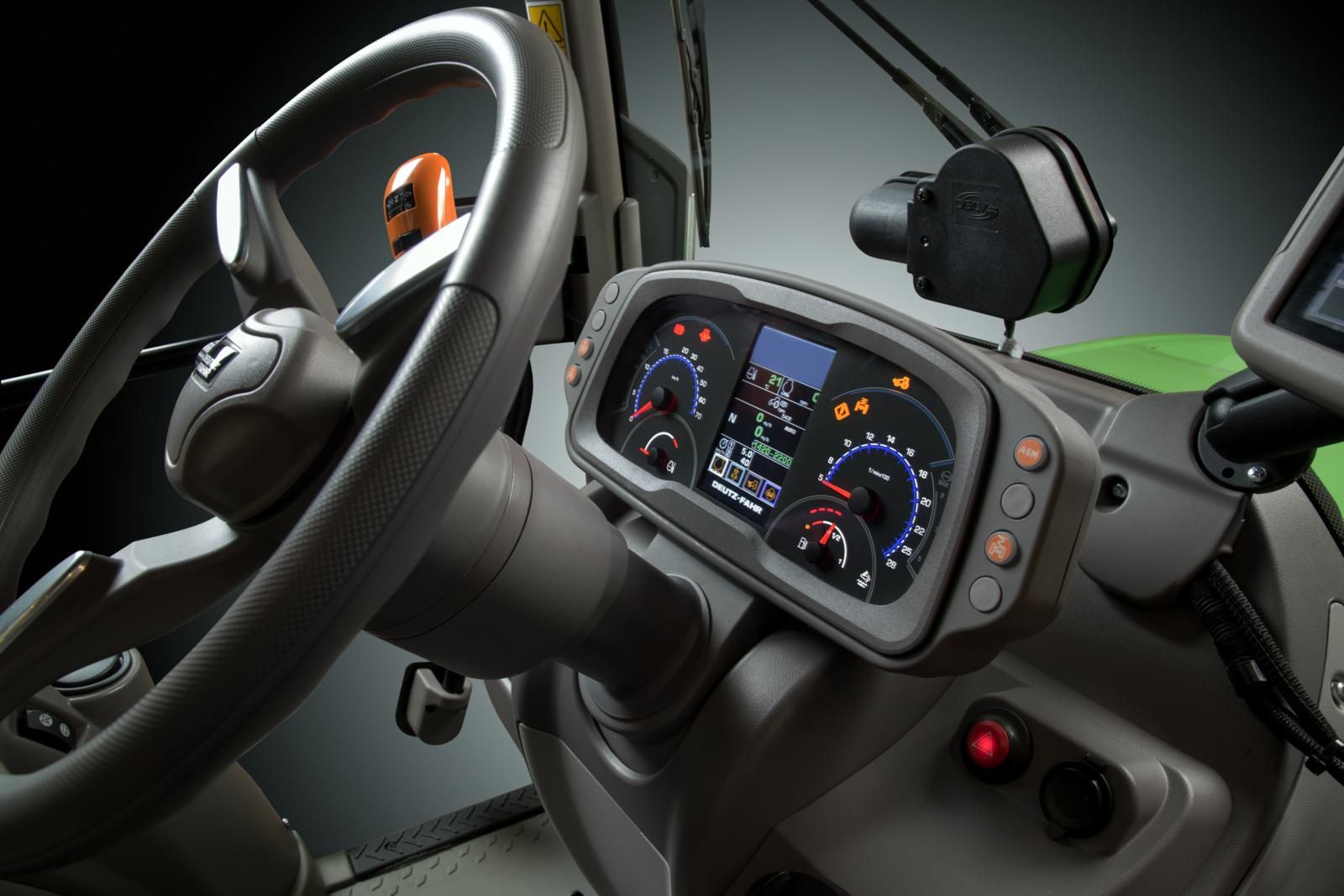 ASM
An electronic system which automatically engages and disengages drive to the front wheels and the differential lock in relation to steering angle, speed and rear lift position (depending on model).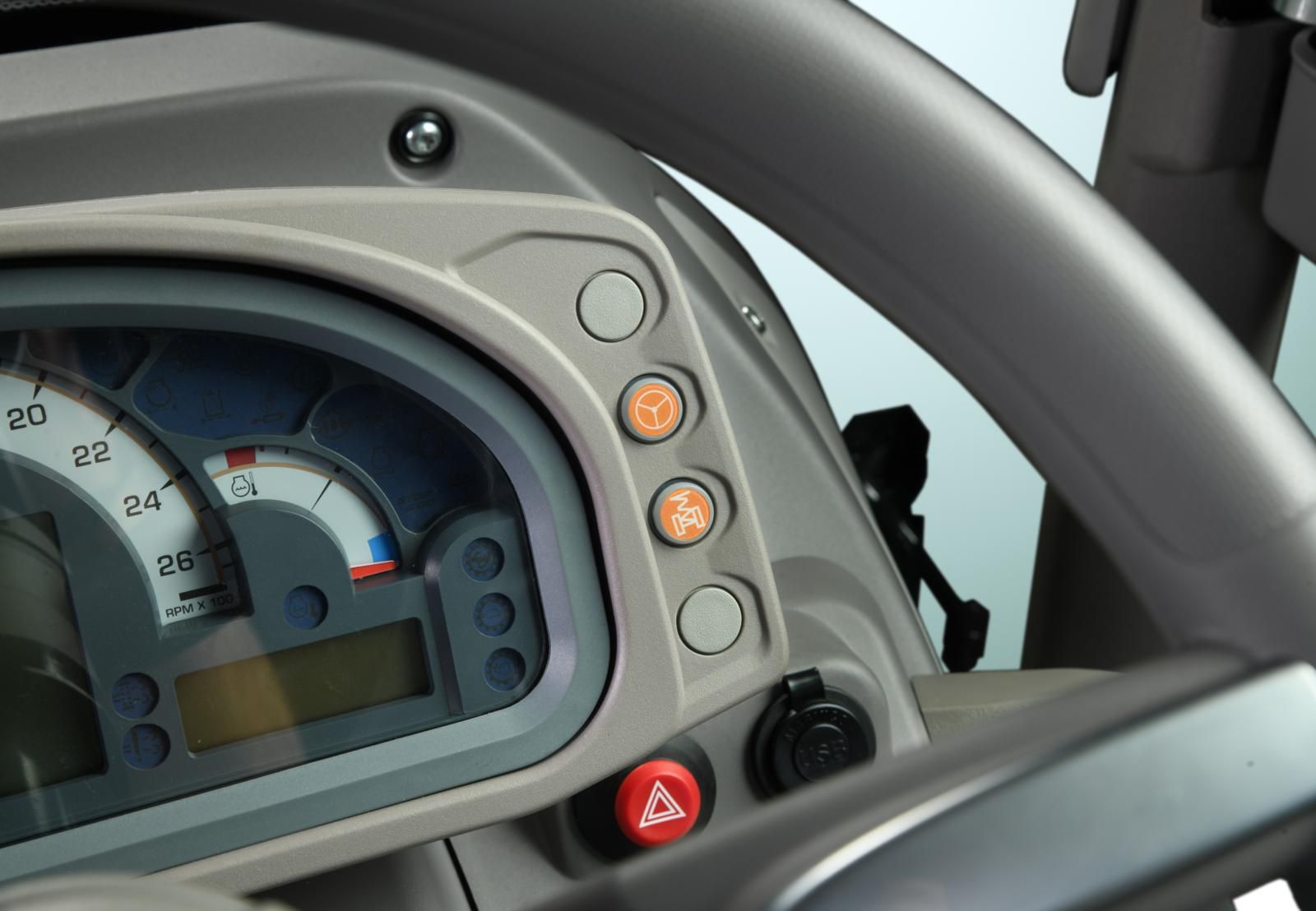 SDD
Steering double displacement. This is a dual rotor steering pump activated and deactivated using a button. A dedicated solenoid valve changes the displacement of the steering pump. This halves the number of steering wheel turns necessary to perform manoeuvres.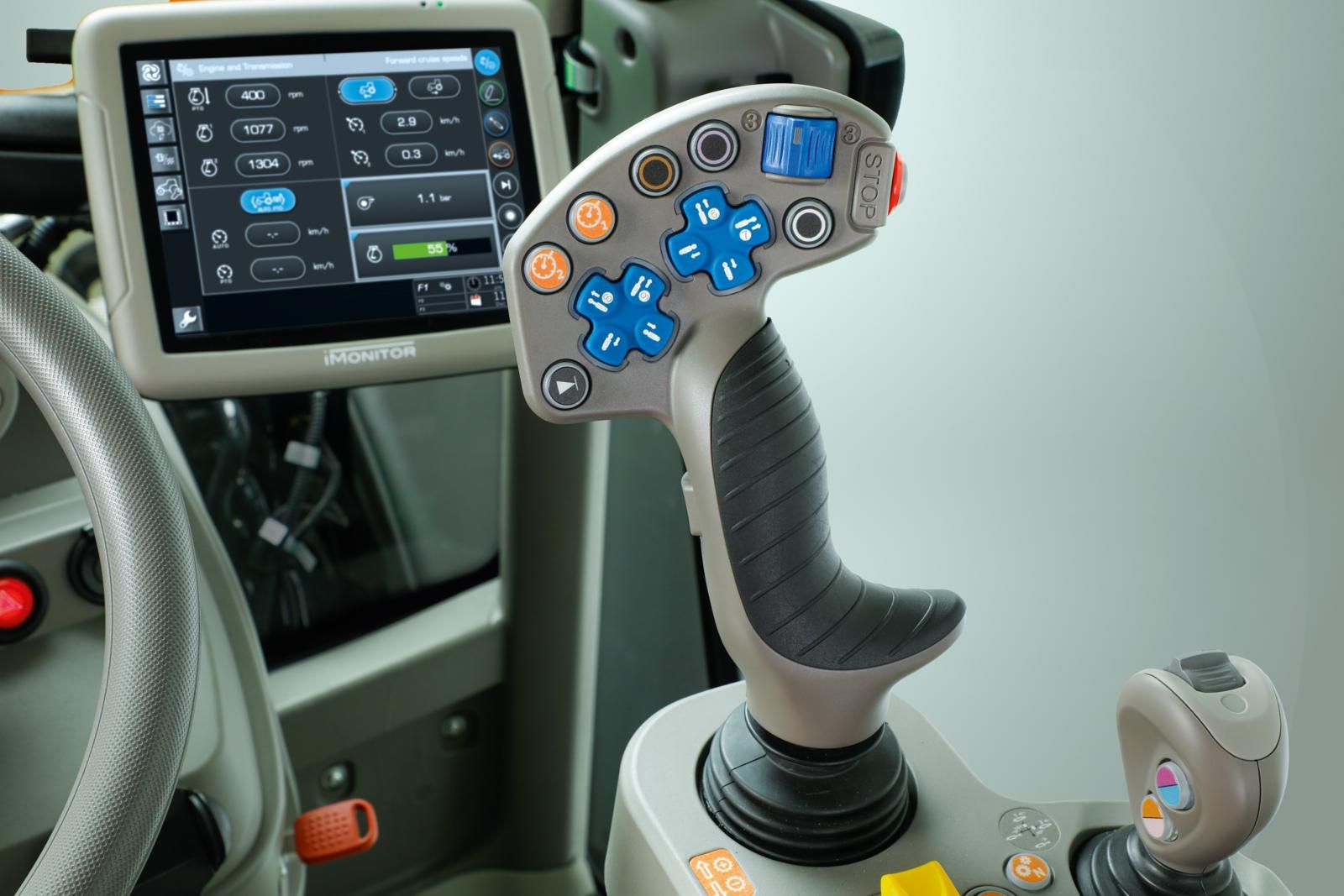 Jolly Buttons
To the freely programmable buttons the operator can assign the power shuttle, the fast steering system, the rear lift, the hydraulic valves and even more functions. This makes the daily work intuitive and extremely comfortable.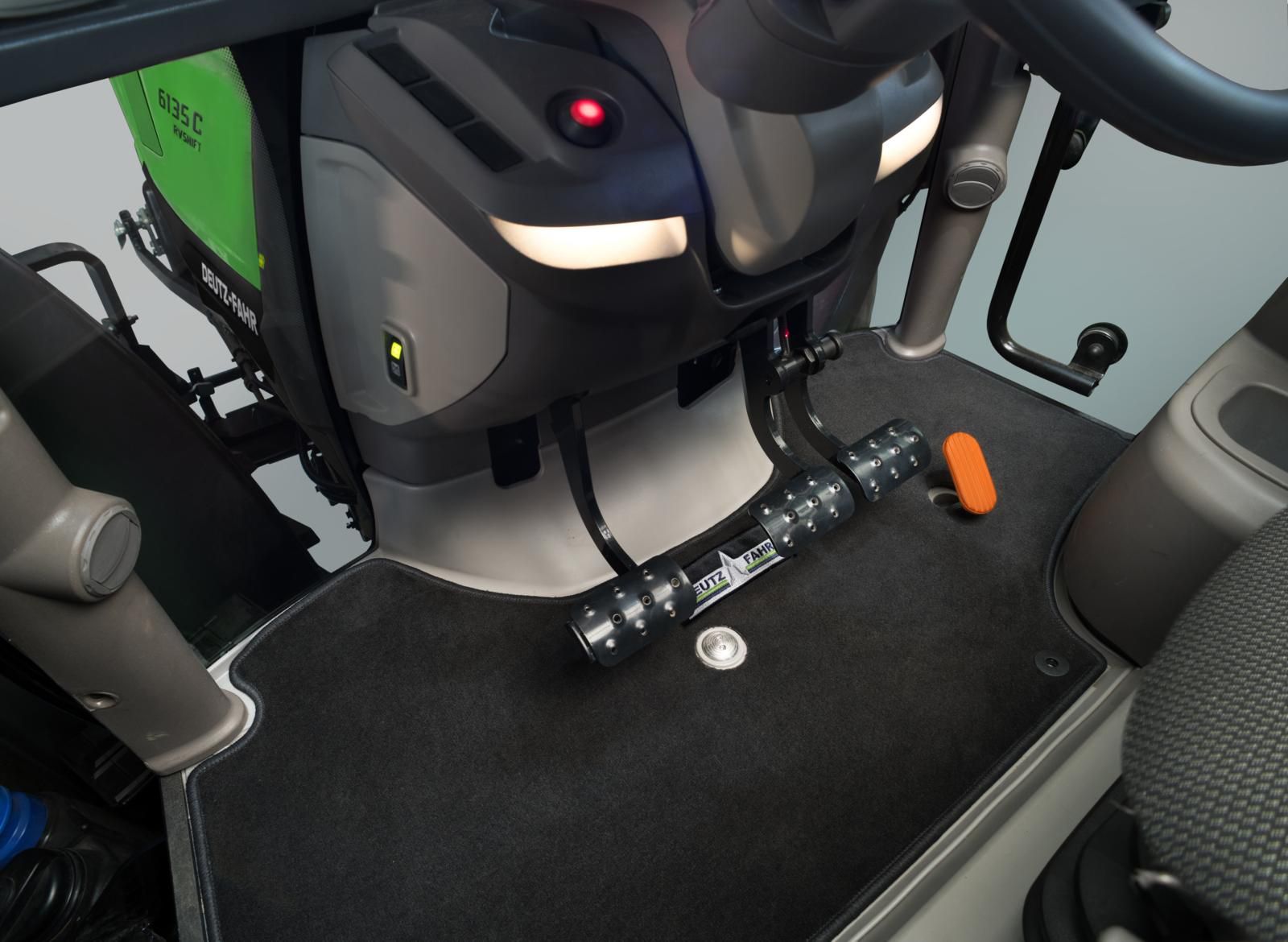 Hydraulic Engine Break (HEB)
Thanks to HEB, the hydraulic system, together with eVisco fan, can develop engine braking performance and increase safety during transport, especially on a downhill slope. The system is mainly based on the tractor's hydraulic system and can be modulated in different steps.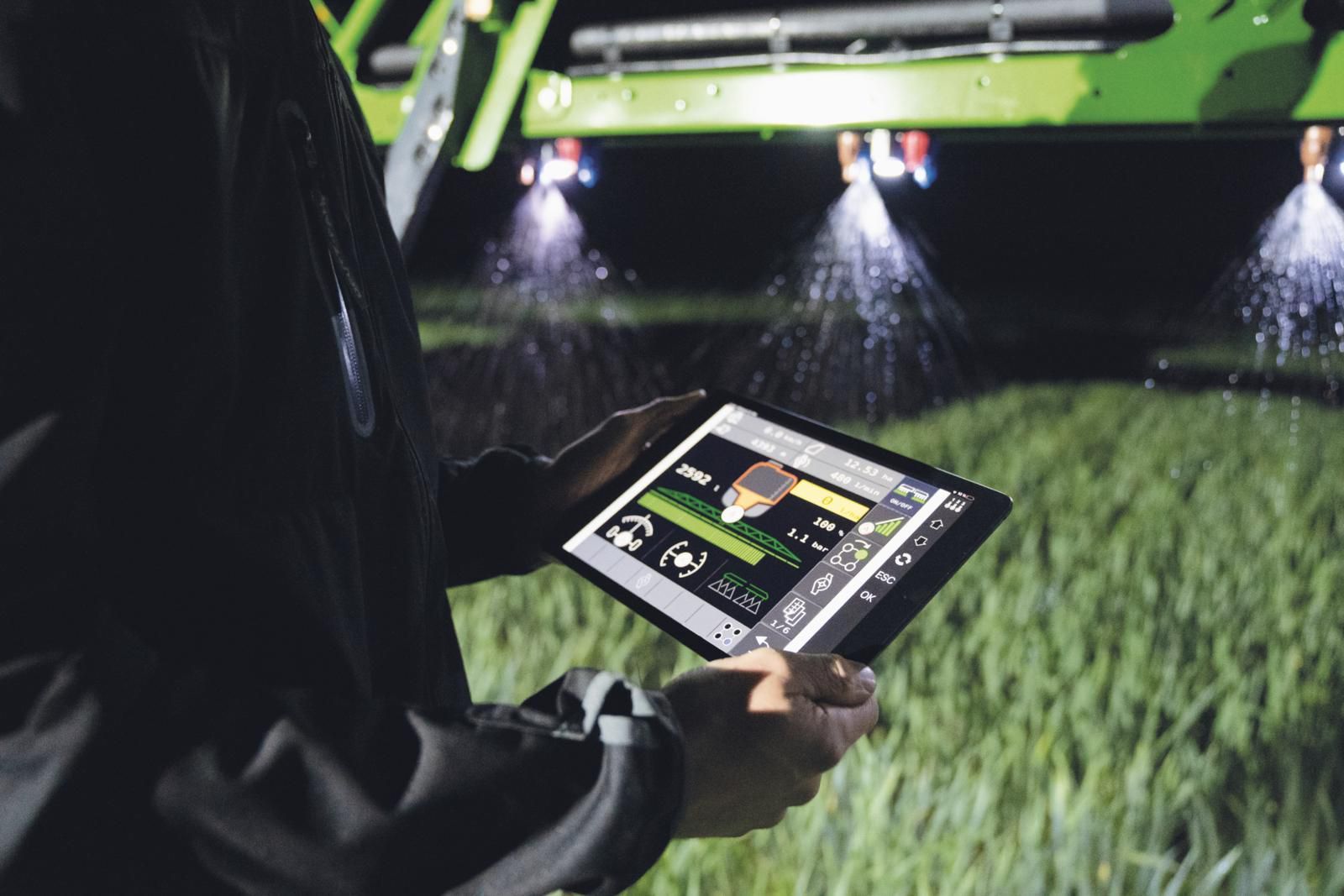 Xtend
XTEND allows the display area to be extended easily, with a tablet, for example. You can either display the guidance application or even fully control all ISOBUS-UT functions – with your tablet! It is a cost-efficient and user-friendly alternative solution to a second terminal.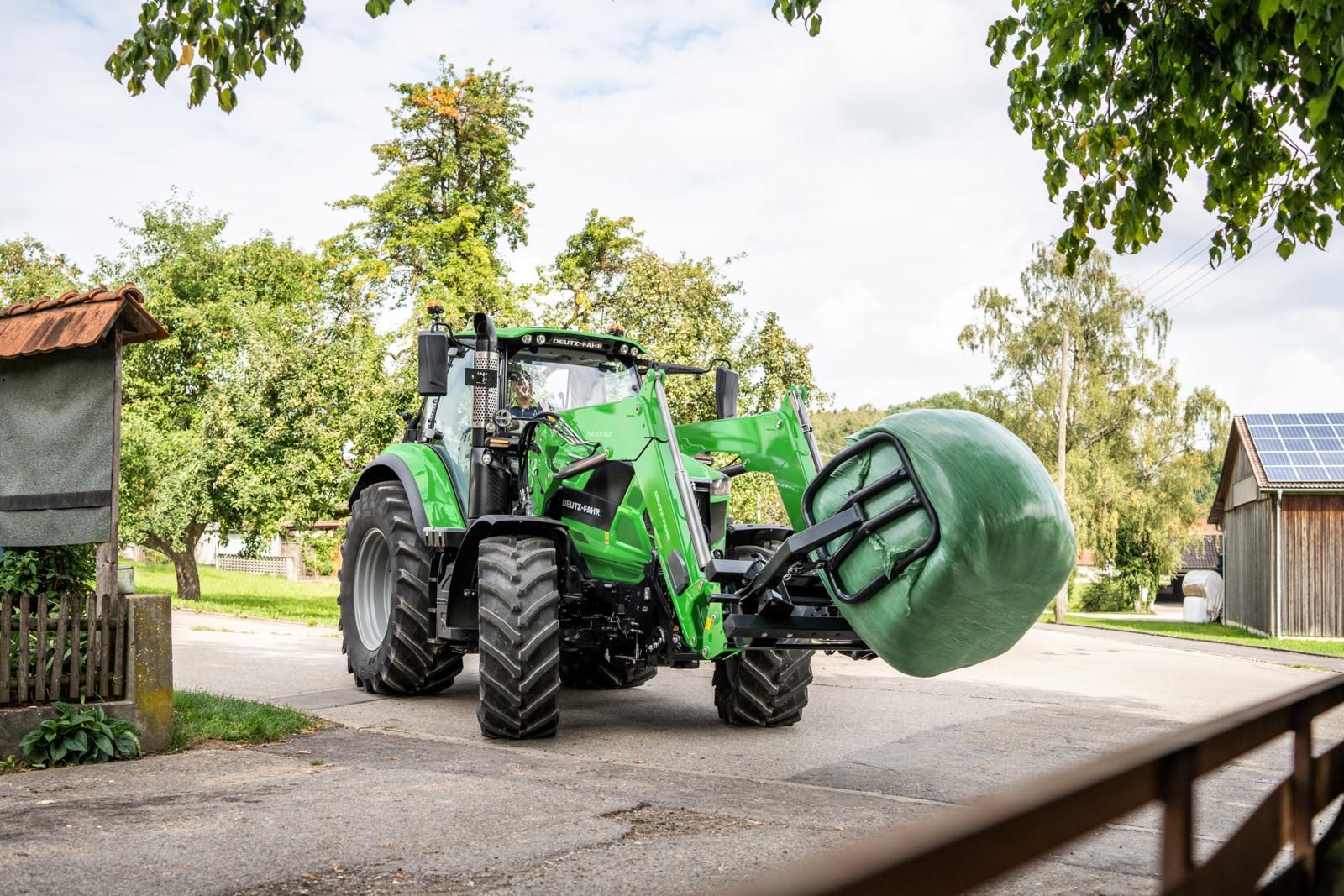 EasySteer
Easy Steer is a feature of the steering orbitrol to decrease the manual steering movements of the driver. Once activated with a button on the armrest, four steps (from 0-4) can be adjusted via settings in the iMonitor. The benefits are quick turning manoeuvres in headland and added convenience for the driver.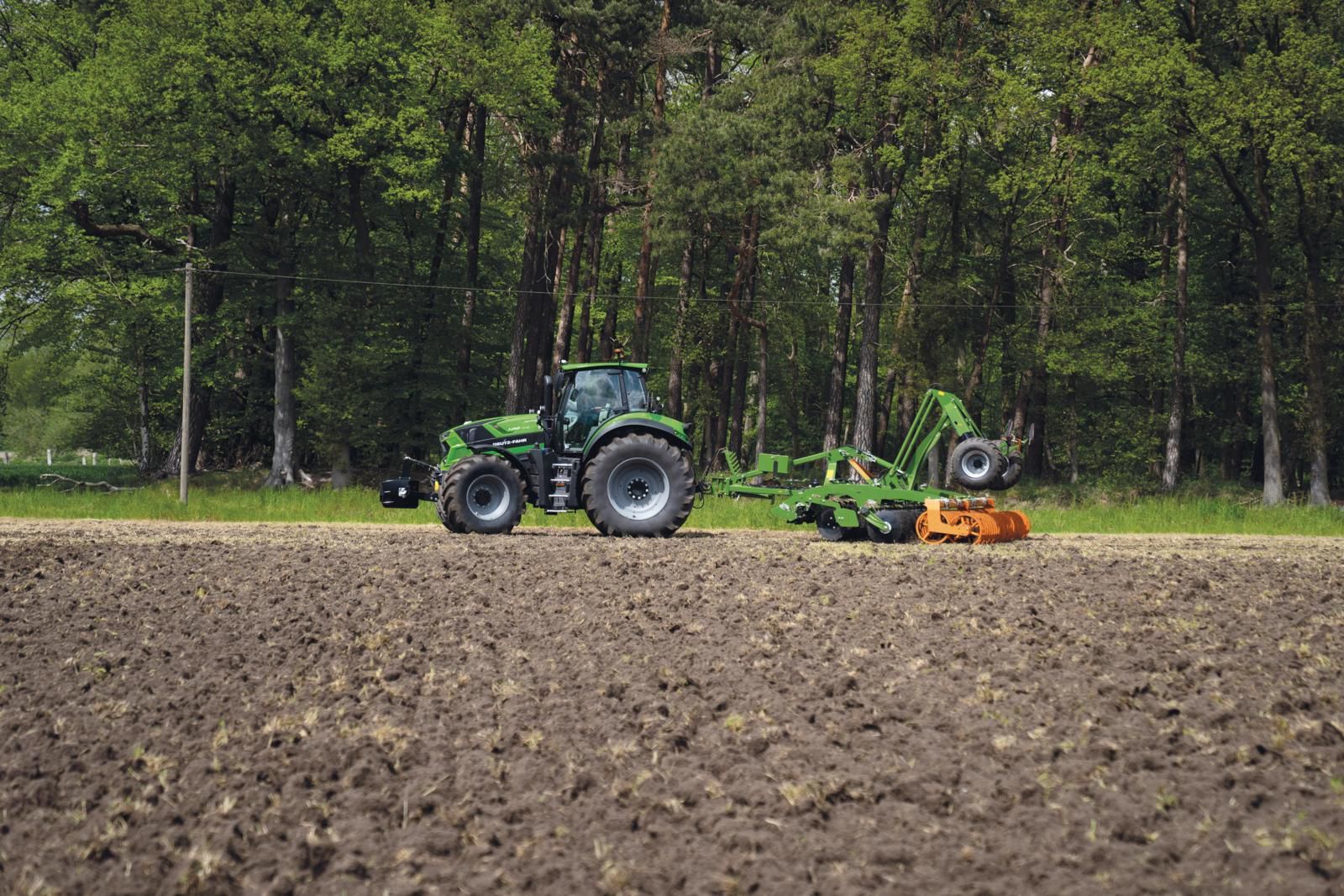 AutoTurn
The Auto-Turn feature allows automatic turns to be performed on the headland. You as the driver can decide which track to steer into. Different patterns are available – whether to skip lines or fill plots. Benefit from added convenience, decreased soil compaction on the headland and time saved!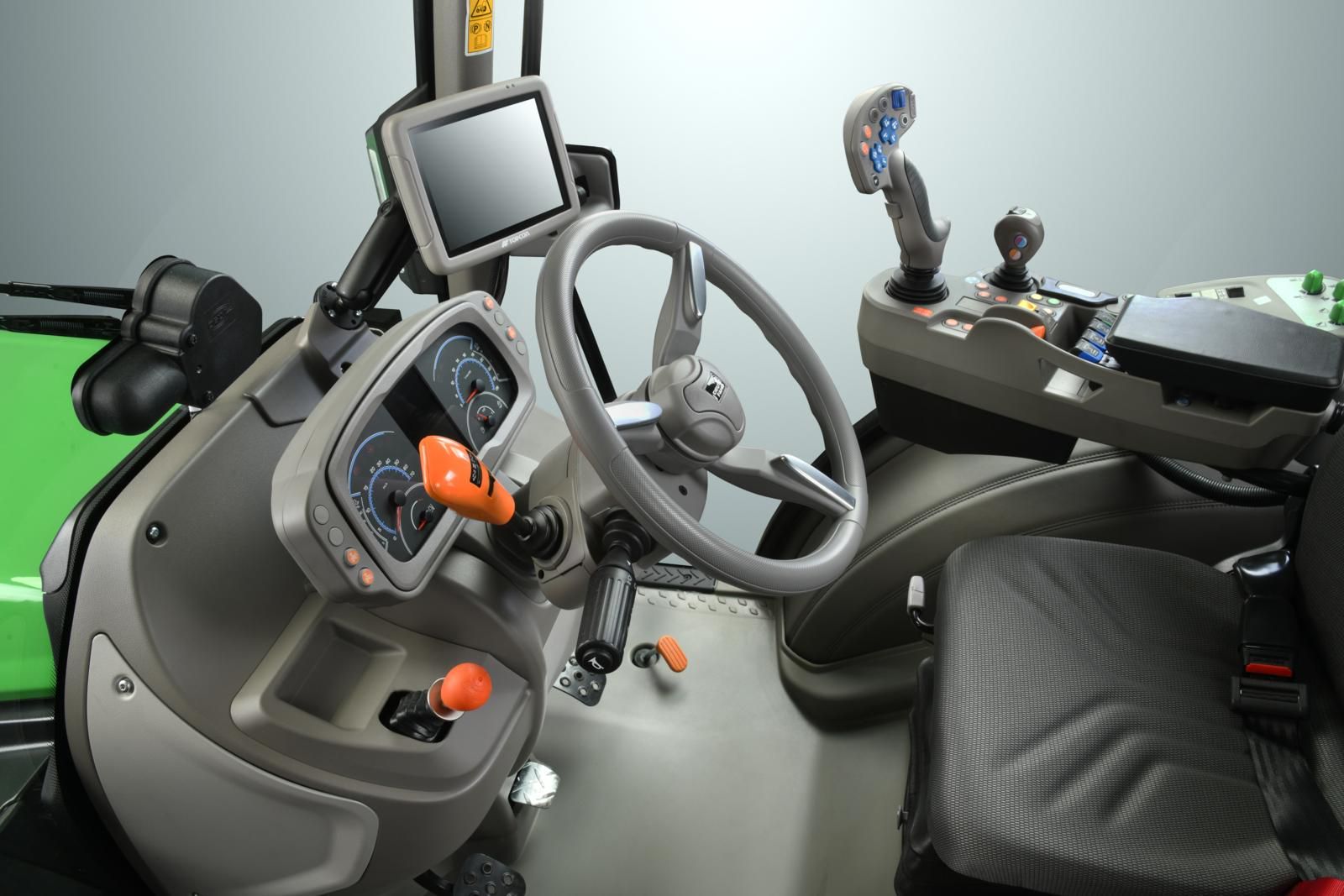 Hydraulic park-brake (HPB)
Park brake for stopping the tractor and safely maintaining a stationary position in all gradient conditions. The park brake consists of a combined mechanical-hydraulic system which exerts a constant pressure on the rear brake discs. In addition, power losses up to 1.5 kW are eliminated, ensuring the lowest fuel consumption.
Request a quote